"For Chrissake don't put your elbows on the bar!"
Chrissy catches the articulations of Claire's arms in the palms of her hands, cupping them centimetres from the sticky surface below, just before they make contact.
"That counter's as tacky as fly paper" she says.

"And you've no idea who or what's been on it."
Claire is crestfallen to have been interrupted in mid-performance of her favourite expression of exasperation: elbows plonked onto whatever object, table, shelf, bed, bar, presents itself before her; face flopped into tulip-ed hands, fringe forward, eyes wide, lashes fluttering occasionally.
It is a look she fancies gives her the air of a gamine sixties pop starlet: a singing Twiggy or the English Francoise Hardy.
Sadly this is a delusion she has carried around at least the last two decades, for in reality she began by looking like a petulant schoolgirl protesting to be allowed stay out an hour later and now resembles a prematurely ageing trophy wife angling for a new kitchen.
Chrissy crosses herself for harbouring such malevolent, ungenerous thoughts, even if they are a good deal more than half true.
"Why the hell are we meeting here anyway?" moans Claire in an upwardly inflected whine that is the aural equivalent of the recently aborted head-flop.
Intended to be youthful insouciance all charming and cool, it is plain irritating and anachronistic on a woman of nearly forty.
"Can mannerisms be described as mutton dressed as lamb?" Chrissy wonders to herself.
Why are they here?
Claire is pre-occupied, as ever, with her phone: tweeting or texting or mailing or participating in whatever new activity she's found this week and finds preferable to actually engaging with the world, the person, in front of her.
Why are they here, in this creepy basement Soho bar, near where they used to work together a dozen years ago?
Why does this place still exist with its outmoded list of once chic twists on classic cocktails, its black décor lacquered with human sweat, spilt drinks, tears, broken emotions and other human secretions?
Why are they still friends?
Outside it's Spring.
Bright, too-white-to-be-Summer sunshine is illuminating pretty girls in this seasons stand out colour coats and encouraging advertising boys who have been working on their bodies all Winter in gyms to roll up sleeves and remove jackets to show hard curves under fitted shirts.
In here it is perpetual Autumn. A twilight world where overgrown adolescents pretend after a youth they are not yet prepared to admit they have lost.
Lost boys and girls listening to music from seventeen or more years ago, sipping sugary solutions that were once edgy and are now no more than safe.
Freelancers playing hooky from careers that never truly came into being. Well dressed, almost well paid, just comfortable enough to be prepared to ignore to pain: things just aren't everything they'd hoped for.
Things aren't anything like they'd hoped for.
Why are they here?
"She's here!"
Claire, sees her first, rises from her stool and snaps Samantha on her phone as she descends the stairs.
They all air kiss.
"I'll post it" she says referring to the image on the glowing screen.
"After I've done some work on it, of course."
Chrissy just feels sick as they order three dirty martinis and get ready to talk about old times.
Coco Noir by Chanel is a truly pathetic perfume.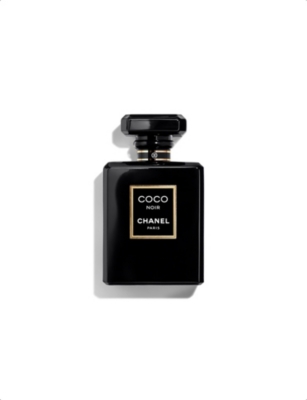 Worse than that, it is a downright depressing smell.
Devoid of ambition, imagination, flair, flamboyance, elan, emotion, wit, style or substance it is a cynical, puerile, joyless piece of olfactory junk.
This is a lowest common denominator fragrance by numbers.
To offer a description is almost to flatter it.
Linear and, in terms of projection, strong.
It lasts a long, long time.
Sweet, cheap, fruity, patchouli, plastic balsamic with cellophane bagged spices.
References abound to other past 'triumphs' from the House of Chanel, all post No. 19, of course.
Yet they are in-jokes, self-parodies almost, painful self-inflicted pastiches.
Really, why did they bother?
Can't Chanel do any better?
When did they last do any better in the mainstream?
Not a happy experience, and to my mind no pleasure, guilty or otherwise at all, The Dandy genuinely couldn't wait to get it off my skin.
That said, after a short break for ho-hum reasons, it is so very good to be back again.
Yours ever
The Perfumed Dandy.