She arrived in Hollywood already with an acid tongue and a smile like sucking lemons.
She didn't suffer fools gladly or otherwise.
For she knew she had it in her to make herself a star.
They said she came straight off the boat with a belly full of mossy bitterness.
Who wouldn't be a little put out?
She'd already done the casting couch in Europe but had to start again here, looking on, green as envious galbanum, while other girls got the good parts over her.
She? Who had played Christian martyrs and vestal virgins in some of the biggest movies that had ever been.
She? Whose steely glamour and sexuality on ice had rocked a continent.
So she had a past! What of it?
She'd washed that chemically clean in aldehydic soap in London: lost her Mademoiselle along, conveniently enough, with her memories of Parisian perversity and her Berlin bob cut not blonde hair.
That's all history now: gone up in hydrogen peroxide now.
She's a Miss now!
And she's ready now, for the first screen test close up of a thousand big screen close ups of a career she knows will last for years, for decades even.
They may have her flowery while on sound stage, a Continental bouquet of iris, rose, jasmine and carnation: all swoons and bias cuts.
But it's the narcissi that sing most from her heart.
It's the leather gloves she pulls on like a women who can drive fast and throw punches hard that gives a clue to her mind.
The gritty patchouli oil she stabs at her neck that speaks from her damaged soul.
She's a beauty, but she ain't pretty.
She's a star and she's a bitch and she knows it.
Miss Dior is anything but polite.
In her best formulations she is a 'sharp as a card shark turned killer' perfume.
She is the boudoir and bar brawl heroine throwing punches like an against-the-wall gangster in a Golden Age Ballgown by Head, photographed by Horst.
She is the collision of glamour and catastrophe.
A few smacks across the face by a green oakmoss hand in an aldehyde dry-cleaned leather glove goes by way of introduction.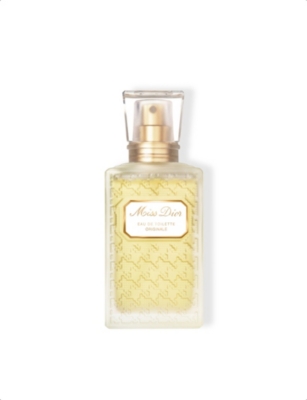 If she then feigns to mellow into iris and rose and hints at sandalwood softness in her heart, beware.
Beware, for this is another of her Oscar-wining transformations, soon enough dirty patchouli, salty amber and wild grass will be back to give you a friction burn of a dry, dry down.
Despite her femme nomenclature, this early doors Bonnie Parker is butch enough to be sure.
A woman should wear it if only she's as happy wearing a holster. And a guy, well he just as to be good with it.
Hell, if anyone calls him, she's been in enough Western's: Miss Dior will be by his side for the shoot out.
One knows that these days Miss Dior has become 'Originale', however, for The Dandy there is can only ever be one Mademoiselle.
Yours ever
The Perfumed Dandy.